The region
The Vendée like you have never seen it before!
Go out and explore the Vendée
The Vendée is an area rich in diversity. A multitude of activities are possible here. Whether you are a nature enthusiast, keen on history or even a lover of idleness, you will be sure to find something to delight you. On foot, by bike or even stand up paddle board, go out and explore the large Vendée open spaces, during your stay on the Camping Village de la Guyonnière campsite!
Here's a sneak peak of the Vendée!
Bretignolles sur Mer
Saint Gilles Croix de Vie
Les Sables d'Olonne
The Île d'Yeu island
Île de Noirmoutier island
Le Grand Défi (children's theme park with multiple activities)
Puy du Fou (historical theme park with multiple shows)
Le Château des Aventuriers (castle and children's theme park)
O'Gliss Park (a water park)
Parc des Dunes (a theme park with attractions for all ages)
Vélorail (family attraction on an old railway line propelled by participants pedalling)
Le Zoo des Sables (eco zoo)
Planète Sauvage (a safari park, including marine shows with dolphins)
Le Potager Extraordinaire (botanical garden)
La Folie de Finfarine (famous for bees and honey production)
Plage des Dunes beach
Historial de la Vendée (Vendée pre-history/history museum with archaeological site)
Château de Talmont (medieval castle)
Site Préhistorique du Cairn (prehistory site covering the neolithic period and megaliths)
Musée de l'Automobile (car museum)
Apremont (commune including a castle, lake and leisure activities)
Vendée Miniature (a miniature village)
Jaunay'stivales (free open air cultural evening entertainment)
Autrefois Challans (revives the customs of the early 20th century - July and August only)
Feu de la Saint Jean (festival including a ball on 24 June each year to celebrate St John's Day)
The Fête des Vieux Métiers (craftsmen revive old traditions)
Lac du Jaunay lake
Retour à la carte
Beaches and islands
The Village de La Guyonnière, a campsite close to the sea in the Vendée
The retro-coastal location of our Vendée campsite is perfect for families looking for peace and quiet and rest, but all the same wishing to make the most of the delights and pleasures of our seaside resorts.
From the Village de La Guyonnière, the loveliest beaches of the coast are within your reach. BRETIGNOLLES SUR MER is 10 minutes away by car: plenty to make the most of every day! Has LA GRANDE PLAGE (the vast stretch of beach) of SAINT GILLES CROIX DE VIE always made you dream? You will be delighted to learn that it will take you around 20 minutes to get there!
One of the loveliest beaches in Europe, that of LES SABLES D'OLONNE is located around thirty minutes from the campsite. The sandy beach simply awaits you for a delightful day in the sunshine. Once there, you are also able to take advantage of a multitude of activities such as diving, jet skiing, sailing, surfing, stand up paddle boarding and even parasailing…
In Les Sables d'Olonne, come and stroll to your heart's content along the dune embankment. The noise of the waves in the background, the terraces of cafés and little shops set the tone. During a family walk, enjoy what this tourist town has to offer you. A holiday atmosphere emanates sublimating this exceptional sea front.
The big plus!
The big plus! You are able to go the beach by bike from the campsite! Hire bicycles from our hire centre and go for a 16-kilometre bicycle ride via the cycle tracks, which will lead you directly to the Plage des Dunes beach in Brétignolles sur Mer.
Upload the list of the closest beaches from our Vendée Village de la Guyonnière campsite and choose those which suit you best thanks to our little annotations (beaches with lifegards, beaches accessible to disabled people, family beaches, wild beaches, dogs allowed and other such annotations).
List of the closest beaches
The closest beaches
Close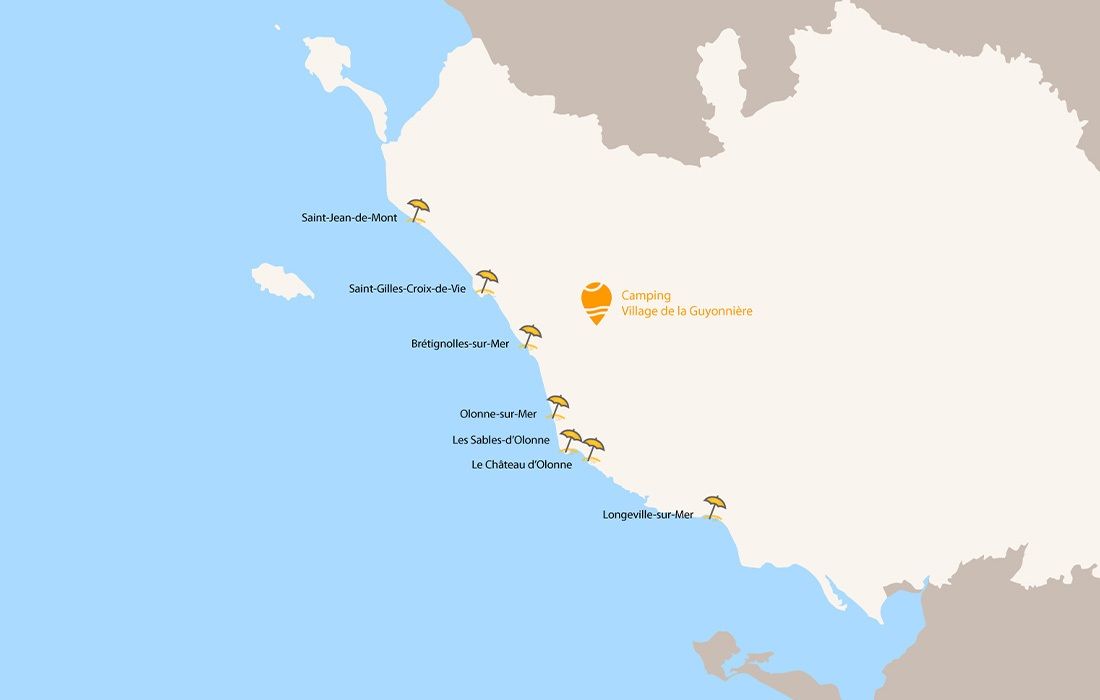 Brétignolles-Sur-Mer
Distance: 11 to 14 km
Plage des Dunes beach
Monitored (2 lifeguard stations), long stretch of fine sand, waves, nautical sports.
Disabled access
Plage de la Sauzaie beach
With lifeguards, a wild beach, running alongside a rocky coastline, inlets, a change of scenery that is sought-after by surfers.
Plage de La Parée beach
With lifeguards, a family beach, perfect for swimming, a wild beach, running alongside a rocky coastline, inlets, a change of scenery that is sought-after by surfers.
Plage du Marais Girard beach
A family playground
La Normandelière beach
Sandy beach, perfect for families.
Disabled access
Saint-Gilles-Croix-de-Vie
Distance: 20 km
Plage de Boisvinet beach
Monitored by lifeguards, south-facing, diving board accessible at high tide. Showers, toilets. Between the coast road and the entrance to the harbour.
Disabled access
La Grande Plage beach
Monitored by lifeguards, extending over 3.6 kilometres, running alongside dunes, a small embankment with cafe terraces, restaurants and other facilities...Sand dunes that are marked out by pedestrian footpaths.
Disabled access
Olonne-sur-Mer
Distance: 22 km
Plage de Sauveterre beach
Monitored by lifeguards over a length of 300 metres. Hidden amid the forest, a wild coastline.
Dogs allowed, if kept on a lead
Les Sables-d'Olonne
Distance: 25 km
La Grande Plage beach
Monitored by lifeguards. One of the loveliest sandy beaches in Europe, within a bay in the arc of a circle, protected by the prevailing winds. Running alongside a large embankment: shops, ice cream sellers, bar and restaurant terraces. Very busy during the summer season! There is little room at high tide.
Disabled access
La Paracou beach
Some 25 kilometres from the campsite: located on the wild coast in La Chaume, near to the dunes and the forest. Peaceful and nature-orientated beach. Enjoyed for low-tide fishing. Cycle path.
Le Château d'Olonne
Distance: 25 km
Plage de Tanchet beach
Located at the southern end of the Grande Baie (a bay in Les Sables d'Olonne).
Saint-Jean-de-Mont
Distance: 35 km
8 km of lovely and long sandy beaches, gently sloping with water of an excellent quality.
Plage des Demoiselles beach
1 lifeguard station, in the southernmost part, between Saint-Jean-de-Mont et Saint-Hilaire-de-Riez. Bathroom installation block, free parking. Low-tide fishing
The Grande Plage
Monitored by lifeguards, with the seaside esplanade running alongside a lovely sandy beach from one end to the other. Pedestrian streets close by
Disabled access
Davière beach and Plage de la Parée du Jonc beach
In the shelter of the dunes, free parking, in the Notre Dame de Mont direction.
Dogs allowed, if kept on a lead
Longeville-sur-Mer
Distance: 40 to 50 km
Le Petit Rocher beach
Monitored by lifeguards, sandy beaches, some pebbles on the beach. There is parking close to the beach.
Plage des Conches beach
Monitored by lifeguards, sandy beaches, and renowned for its high waves.
The Île de Yeu island and the Île de Noirmoutier islands.
If you often dream of escaping to forget everyday life in mainland France (or indeed back home), the Vendée islands may appear to be a perfect getaway for a day. With windswept rosy cheeks and sea spray, you will enjoy this family time cradled by the waves.
Make the most of our situation to escape to one of the most beautiful islands of the Vendée coast. From Saint Gilles Croix de Vie, board a water shuttle for one of the most delightful trips! After a one-hour cruise, you will have the opportunity to set foot on the Île d'Yeu. On site, hire a bike for a bike ride going wherever the breathtaking landscapes take you to your delight! Amongst the forest of maritime pines, the dunes, the multiple creeks or even the steep cliffs, experience the island's appeal for a total change of scene.
The wild coasts of the of the island have everything to delight you. Make the most of this postcard scenery and of these timeless moments with your tribe. With your head full of memories, you will return you to the mainland free of cares.
The Île de Noirmoutier island also has plenty to surprise you. Starting with its access. Indeed, although the island is linked by a bridge that you can take at any time of day to enter or leave, its second access takes the most unusual form. LE PASSAGE DU GOIS, a road which is only clear for access at low tide. However pay attention that you only make the crossing per the tide times indicated, as the Passage du Gois is a 4-kilometre road submerged at high tide!
Rest assured, at the campsite reception, our staff will be only too pleased to tell you the crossing times, so that you can do so completely safely! Upon arrival on the island, discover the natural richness of its land and its exceptional soils used for local production. In addition, learn more about everything from its salt marshes, its harbours and little shops as well as its history, by means of its museums and architecture through to its craft industries.
Theme parks
The Vendée offers activities for every taste and age!
Delight the entire family! Isn't this the ultimate objective of a successful holiday? The Vendée lends itself wonderfully to the numerous theme and leisure parks in the département. Whether these are the exceptional shows of the Puy du Fou, going out to explore the animals of the Zoo des Sables or even getting a good dose of adventure at the Grand Défi (an activity amusement park) or at the Château des Aventuriers (a pirate and dinosaur-themed adventure park), rest assured that your entire tribe will be won over…
Such a compulsory stopping place for any stay in the Vendée, Puy du Fou is the essential must-see for your holiday. Come and be filled with wonder, tremble and be moved by the shows in the world's best theme park. A park where emotions are severely tested, for the greatest delight of the entire family! Attracting tourists from the entire world, this park offers a magnificent overload of various emotions through the ages, to the greatest delight of its audiences. Less than an hour by road from our campsite, discover the Puy du Fou theme park as a family, and forget the 21st century for a day!
Also discover the out-of-the-ordinary Vendée countryside with the vélorail (family fun by pedalling along an old railway track). More convivial than a simple bicycle ride, you will have plenty of time to take your little tribe on a ride, within a delightful and green environment! During the holiday season, make the most of a 14-kilometre 2-hour round-trip. A novel opportunity promising moments of laughter as a family! 
Do you long for aqua play thrills?
Head for O'GLISS PARK, 45 minutes from the Camping Village de la Guyonnière. This aquatic park opened in 2016 and is made up of 4 different worlds: Ludo'Park for children, Sunset Playa to relax in the shade of palm trees, Exploral'O which recreates 400 metres of wild rivers and Délir'Space with its 12 water slides each more wild than the others.
Le Grand Défi located in Saint Julien des Landes, as is our campsite, offers you a wide choice of activities for the all of the family: These include treetop adventure, paintballing, Galactic Laser, QUICKJump (free fall), Disc Golf (a flying disc sport played using rules similar to golf), an orienteering course, a pony ride, ExplorGame (challenge/puzzle tablet-based game), and other activities.
Less than 20 minutes from the campsite, spend a day as a family in the PARC DES DUNES at Brem sur Mer. On the menu there is a massive ball pool, a trampoline, water slides, inflatable structures, pedalos, a monkey bridge, a toboggan run…in other words, plenty to delight children and adults alike!
With your children dicover the Château des Aventuriers (the adventurers' château)! Located in Avrillé, 40 minutes from the campsite, become immersed within worlds each more impressive than the others. In the château, amongst the pirates or in the dinosaur's enclosure, parents and children should solve puzzles and have their fill of discoveries! An activity which delights children, as much as parents, for one of the most pleasant afternoons!
Discover a zoo like no other with the Zoo des Sables. An animal park which has invested heavily in the protection of both species and the environment (an eco zoo). We find impressive species such as the maned wolf or the Red-faced Black Spider Monkey from Colombia. It takes around 2 hours to fully enjoy the species in this park. Come and get fresh supplies at the snack bar on the Les Saïmiris terrace; this is located as close as possible to the wild animals!
Sticking with the animal theme, go on safari with Planète sauvage! Only one hour from the campsite by road, this park consists of 5 major worlds to discover. These include the 10-kilometre Safari trail with savannah animals roaming freely, the Cité Marine (a marine-based attraction) and its dolphin show, the Chemin de Brousse (brush path) with the Village de Kirikou – Kirikou village (inspired by the film Kirikou and the Wild Beasts by Michel Ocelot). The other two worlds are the Sentier des Incas (Inca trail), and its little monkeys roaming freely, and the Temple de la Jungle (jungle temple) and its suspended bridge.
Don't miss out one of the most popular activity in Les Sables d'Olonne: Les Salines, 30 min driving from the camspite. Get on board or pick up a canoe or a stand-up paddle board for a ride in the marshes, discovering the salted river! Learn more about the profession of "saunier" and watch your kids collect their own salt!
To learn everything about the life cycle of bees and making honey, head for LA FOLIE DE FINFARINE , 30 minutes from the Camping Village de la Guyonnière campsite. A recreational family trip of discovery, whilst having fun at the same time, through the various workshops and activities on offer.
Cycle tracks
The Vendée has the largest network of cycle tracks of a given department in France!
With more than 1,100 kilometres of cycle tracks, the Vendée network has plenty to pleasantly surprise lovers of cycling. Forget your car for the entire duration of your stay on our campsite, in département 85, and go out and explore the Vendée by bicycle, from the bocage (pastureland criss-crossed by hedges and trees) to the coast via the Breton-Vendée marshes.
The site vendeevelo.vendee.fr details precisely the various cycle tracks of the département, and gives you all of the information necessary to prepare for your cycle ride.
From the Camping Village de la Guyonnière campsite, you can even directly reach the sea, more precisely the PLAGE DES DUNES, a vast beach in Bretignolles sur Mer. A pretty 16-kilometre ride through retro-coastal countryside, so that you can then make the most of a picnic on the beach and an afternoon's swimming as a family. Obviously, it is not necessary for you to bring your own bikes, the campsite having several dozen available for hire.
Historical sites and museums
All of the cultural and recreational trips out close to the Vendée Camping Village de la Guyonnière campsite
Discover a museum unlike any other, the Historial de la Vendée, 45 minutes by road from the campsite. It relates nearly 7,000 years of History in the Vendée, from its geological formation and Prehistory up until the 20th century, taking in amongst others, the Antiquity period and the War of the Vendée (a Vendée uprising during the French Revolution), using both recreational and interactive means. An area of 300 m² is even given over to children, of all ages, to learn whilst having fun at the same time!
Step back in time at the Château de Talmont (a medieval castle in Talmont Saint Hilaire). A multi-faceted building. In summer, medieval shows bring the château to life and recount the histories of major figures of such times, such as Eleanor of Aquitaine and Richard the Lionheart. The most recent addition to the site has plenty of surprises. An "escape game" (with puzzles and riddles), in the underground passage of the château, will lead you in the steps of Richard the Lionheart who has, at that point, vanished. Upon the orders of Eleanor of Aquitaine, your task is to both find him and come out of the underground passage on time. This is a unique experience to share as a family in a place steeped in history!
Put yourself in the shoes of an actual member of the Homo sapiens species for a day, stepping back in time with fairly true-to-life representations at the Site Préhistorique du Cairn (Cairn Prehistory Centre). There are a multitude of activities to enable visitors to learn more about prehistoric practices. These include demonstrations of fire making, hunting, pottery workshops and even the displacement of menhirs! Take part in an archaeological dig session to discover more about those who came before us. A day rich in discoveries and sharing awaits you on this site.
Discover a superb collection of old cars at the Musée de l'Automobile (car museum) in Talmont Saint Hilaire. Nearly 160 vehicles, dating from between 1885 to 1970, comprise the permanent exhibition of this family-owned museum.
For a day or a half-day, pace up and down the streets of Apremont, designated as a "Petite Cité de Caractère" (given to a number of French character towns and villages). You can visit the 16th century château and attend various shows and activities, and then allow yourself time by the shores of a lake, where children can swim and have fun thanks to canoes, pedalos and a water slide.
In Brétignolles sur Mer, do not miss Vendée Miniature: an 800 m² premises, in which a Vendée village of old is recreated. Be filled with wonder, faced with the minute detail and art of its creators, and go back in time thanks to the surroundings instituted by a 'sound and light' show that has been devised.
Local festivals and markets
Exploring Vendée folklore and the Vendée's local produce
The Vendée markets
Each day many of you come and enquire, at the campsite reception, about the various markets to visit in the region. Moreover, you're right to do so, as there are lots of them! This is why we make available a booklet detailing for you the various Vendée markets, including the days they take place, at the campsite reception. We include information as to whether they are food or craft markets or both. Amongst the most popular are those of Brétignolles sur Mer (only 15 minutes from the campsite), Saint Gilles Croix de Vie (20 minutes away) or even Les Sables d'Olonne (30 minutes away). And we mustn't forget the highly popular evening markets (for example Saint Gilles or Port Bourgenay)! For immersion within the richness of local craft industries and the Vendée local produce, it is delightful to stroll amongst the market stalls.
Local celebrations, close to the Vendée Camping Village de la Guyonnière campsite
Les Jaunay'Stivales
Organized by the Pays des Achards group of communes (local districts), cultural entertainment is held every Thursday evening in July and August! It is free and enables families to share a delightful, convivial and festive time, at the heart of exceptional natural sites (for example the Lac du Jaunay lake). On the menu: concerts, shows, fireworks and other events…Plenty to make lovely memories of your summer evenings in the Vendée.
Autrefois Challans
Step back in time with this ancient fair. It takes place 4 times in the year by virtue of 2 Thursdays in July and August giving way to the "Challans of Yesteryear" festival. Stroll through the streets of CHALLANS and attend various activities which back then comprised the daily lives of Vendée farmers: a poultry fair, a choral society, crafts of yesteryear, elegance competitions, a horse fair…Plunge into Vendée folklore for a unique experience. 
14th July (BASTILLE DAY)
Of course, the 14th July is the opportunity to celebrate! There is no shortage of parties, entertainment and fireworks on this occasion! One of the most popular evenings is held in Les Sables d'Olonne. On the menu: concerts, a procession and of course fireworks set off from the jetty, for a magnificent show above the sea. It is worth noting that the 14th July celebrations also take place a few days before and after the date, dependent upon the given commune.
The Fête de la Musique (a musical festival)
If you stay in the Vendée during June, it is impossible to miss the Fête de la Musique! Make musical discoveries from the most surprising to the most delightful, for an unforgettable evening. For entertainment, you will be able to stroll through the streets of the majority of Vendée communes making the most of free concerts. These take place on 21st June (the festival's official date), in the largest Vendée towns such as LA ROCHE SUR YON, Les Sables d'Olonne, Challans and even Saint Gilles Croix de Vie. They are also held on other dates in June in the neighbouring communes such as LA MOTHE ACHARD (part of the Les Archards group of communes), COËX, Apremont and even Saint Julien des Landes.
Burning offerings in celebration of St John's Day (Feu de la St Jean)
Not to be missed if you're in the Vendée at the end of June. Only 10 minutes from the Camping Village de La Guyonnière campsite, on LES OUCHES DU JAUNAY CAMPSITE in MARTINET, the feast starts from mid-afternoon for children, with various entertainments and inflatable games. Then, when the end of the day approaches you can have something to eat at the grill stalls, before attending a free concert. Lastly around 11 p.m., go to the large celebratory bonfire – the Grand Feu, and once there protect your eyes. A large structure is burned in pallets which, as the combustion advances, leaves you guessing who the magnificent sculpture, some 2 to 4 metres in height, is actually of!
La Fête des Vieux Métiers (celebration of traditional crafts)
This is held during July, in the streets of the ILE D'OLONNE (20 minutes from the campsite). Activities are undertaken by more than a hundred or so craftsmen, who throughout the day, revive traditions which have long since disappeared! Also on the menu: music groups, a parade with floats, a brass band, a country dinner…A festive and convivial day awaits you!
The Lac du Jaunay and its valley
Discover the magnificent natural and preserved area which forms the Lac du Jaunay and its valley.
THE LAC DU JAUNAY is a small lush setting where it is good to recharge your batteries. A multitude of open-air activities are possible there! From relaxing activities through to those which are more fun: there is something for all tastes and ages…
A fishing trip on the Lac du Jaunay lake
This starts by the traditional fishing trip. On the shores of the Jaunay, lovers of fishing have a whale of a time. Renowned for being a reservoir for carp, pike, tench, pikeperch or even perch, the lake offers delightful catches to fishermen. However a licence is necessary to fish on the Lac du Jaunay lake. You can obtain this, from our staff, at the reception of our Lac du Jaunay campsite, the Camping Village de la Guyonnière.
Nautical activities on the Lac du Jaunay
It is not simply in the sea that you can take part in nautical sports: as a family or with friends, you will love the Lac du Jaunay! Cover the lake by canoe or pedalo from the BASE DE LA BAUDRIERE (a nautical hire base), 10 minutes from the edge of the campsite. And for even more fun, try the stand up paddle boarding.
There are also pedestrian paths and hikes, cycling
and equestrian activities around the Lac du Jaunay
Those who prefer to stay on dry land can make the most of the setting for walking or cycling. Whether or not you are competitive, rest assured that all levels coexist here! There is an infinite number of short routes, just as there are long hikes, on offer to you whether you are on foot, on a bike, using an all terrain bike, or even on horseback! Several paths are accessible to you directly from the Camping de La Guyonnière campsite. Moreover, running and all terrrain bike sessions are organised around the lake and in the valley by the campsite team. Of course, you can obtain maps and advice at reception, but also on the achards-tourisme.com site.
Geocaching on the Lac du Jaunay
The most adventurous of our holidaymakers can indulge in geocaching. A treasure hunt for modern times! And your treasures will be what you call "caches". So as to find them, you will need a small GPS, available for hire at the Office de Tourisme du Pays des Achards (tourist office). A superb open-air activity to do as a family, which enables you to discover and admire the landscape, the fauna and flora of the Lac du Jaunay lake and its valley, in both a recreational and active way!