Tourism and disability
Tourism and Handicaps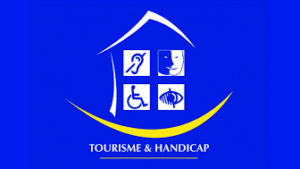 In order to make Camping Village de la Guyonnière accessible to all, we have equipped our facilities with ramps, counters at wheelchair height, a people-carrying device in the pool area, as well as orientation strips and coloured lines to warn visually impaired people of potential steps.
Multiple facilities such as our Bar, Restaurant, Swimming pool are also equipped with the necessary wheelchair accessible facilities such as toilets and a people carrying device to let people even go into the water.
Only the football field and the playground are not wheelchair accessible. However, there are access points that let you go closer to these.

In accordance with the criteria and standards of the Tourism and Handicap Label, of which we have been a part since 2017, we offer cottages adapted to motor and sensory disabilities (visually impaired, hearing impaired), in order to welcome all holidaymakers in the best conditions.
We offer 4 or 6 person cottages, accessible for the visually or hearing impaired. They are equipped with alarms with flashing lights, and the steps have bands to help with orientation.
In addition, two 4-person cottages are specially designed for people with reduced mobility and wheelchair access. They are equipped with ramps, a shower with PRM access, all doors are sliding and the bedside tables are removable.
To consult the descriptions of these accommodations, go to the adapted cottages section.
Several of our pitches are accessible for the visually impaired, hearing impaired and people with reduced mobility.
They are located close to the facilities (reception, sanitary facilities, swimming pool, grocery shop, bar, snack bar, restaurant…).
Practical
information
Camping Village
de la Guyonnière *****
1 La Guyonnière,
85150 Saint-Julien-des-Landes
Latitude: 46.65292
Longitude: -1.74999
Reception times
From the 4th of May to the 1rst of July : from 9 a.m. to 12.30 p.m. and from 2 p.m. to 6 p.m.

From the 2nd of July to the 29th of August : all day from 9 a.m. to 8 p.m.
From the 30th of August to the 8th of September : from 9.00 a.m. to 6 p.m.
Documents to download