Spring Deal extension ! May Half-term, June and early July…
Take advantage of up to -30% off your stay between 17th of May and 8th of July !
To know more...
Home
And if it were you?
Accommodation
And if you were to put down your bags in one of our holiday rentals? Premium cottages, chalets and glamping, each one of our holiday rentals provides you with comfort and well being. Well-equipped, cosy and warm, they occupy a peaceful and green park where Space is King to enable you to spend the most delightful of stays.
And if it were you?
The aquatic park
And if you were to dive into the crystal-clear waters of our fabulous aquatic park? Our Vendée campsite opens its swimming temple for you a heated aquatic complex with water slides, a lazy river and indoor swimming pool. Heaven for the entire family!
And if it were you?
Activities
Moreover, what if you were to offer your children the opportunity for a pony ride? Our 5 star campsite in the Vendée organises a multitude of activities throughout the day. Children and parents alike will be positively thrilled at the Camping Village de la Guyonnière campsite!

Accommodation

The aquatic park

Activities
Your next best memory, mobile home, aquatic park, campsite is right here!
A 5 star campsite, on the shores of the Lac de Jaunay
Welcome to the Camping Village de La Guyonnière campsite, a magnificent lush setting with 394 plots, rated 5 star, close to the Vendée beaches and the Puy du Fou theme park. On the shores of the Jaunay lake, our Saint Julien des Landes campsite is open just for you. Our multitude of aquatic facilities, our activities, our entertainment and our shops and services are on hand to enable you to spend an unforgettable holiday with your family or friends. Make the most of a wide choice of holiday rentals, spacious and verdant pitches as well as a top-of-the-range glamping offer, only in the Vendée, for a great time with your children on the shores of the Lac du Jaunay.
Open from 17th May to 10th September 2023
Book online
Heated aquatic complex with water slides
Located 15 minutes from the Vendée beaches
Free Wi-Fi available across the entire campsite
Lac du Jaunay lake 300 metres from the campsite
The campsite
An exceptional campsite in the Vendée, for unforgettable family holidays.
A green waterfront campsite
Barely 300 metres from the Lac du Jaunay lake, in Saint Julien des Landes, our campsite has certain similarities to a genuine little piece of heaven, conducive to rest and relaxation. Exotic in more ways than one, our 5 star Vendée campsite offers you a natural exceptional setting for your family holidays. Come and settle yourself in one of our spacious pitches (with an average area of 225 m²), our luxury mobile homes, our out-of-the-ordinary lodge tents or our luxurious glamping cabins, to take advantage of sports and leisure facilities. These include our aquatic park, extended and refurbished in 2018! In addition, you can rely upon our services, activities and entertainment to brighten up your stay even more…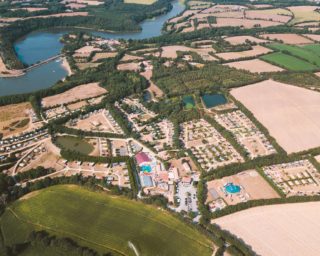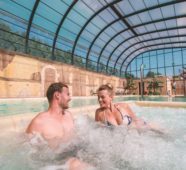 Have fun as a family within a Vendée aquatic park.
From 2018, make the most of an entirely new aquatic area. From large pools to swans' necks as well as water slides, enabling the entire family to spend fun and convivial times. For relaxation, holidaymakers will particularly enjoy our well being area. A location completely given over to your comfort. A spa, a steam room, massage and other treatments are on offer to you: allow yourself times of idleness and relax in the best conditions possible. Make the most of your stay in our campsite with its aquatic park in the Vendée to get a superb dose of good vibes!
Family campsite and activities for all ages!
Within our open-air hotel, we are very keen to facilitate your stay so that it is simply down to you to make the most of your holiday! So that you may do so, services and activities are on offer to you. To make everyday life on the campsite easier, make the most of our catering services, bar, grocery and laundry. For entertainment, you can rely upon our dynamic team of activity leaders! There is a Kids Club for children, a playground, lively evenings, organised trips out, a pony club and even the multi sports grounds, offering unforgettable moments for children and parents in equal measure!
Camp in the open Camp in the open Camp in the open
Accommodation
Staying in top-of-the range holiday rentals
Sample nature's luxury
Enthusiasts of luxury are not outdone at the Village de la Guyonnière campsite! We offer you various accommodation solutions entirely thought out with your well being and comfort in mind. Staying in our out-of-the-ordinary Glamping range, you will experience one of the most delightful stays. Are you keen on luxury? We also have everything necessary in our Premium holiday rentals. Don't delay and discover our entire luxury holiday offer as soon as possible.
One of the most delightful settings to take a refreshing break in the country.
Entirely laid to lawn, our pitches offer you all the space necessary to retain a degree of intimacy, to play or indeed to relax. In a caravan, camper or with your tent, make yourself comfortable during your stay in the Vendée at the Camping Village de la Guyonnière campsite. Make the most of a lush plot for holidays in harmony with nature.
The region
The Vendée - a leading and sun-drenched destination on the Atlantic coast
Exceptional sites in the Vendée
Make the most of your stay within our 5 star Vendée campsite to visit the region. Just a stone's throw from Saint Julien des Landes and the Lac du Jaunay, make the most of the retro-coastal wonders of the Vendée and the Côte de Lumière: Bretignolles sur Mer, the Puy du Fou, Saint Gilles Croix de Vie, Les Sables d'Olonne…locations of equal renown inviting you to come and discover them to create your holiday memories! For unforgettable family trips, the islands of the Île d'Yeu and Île de Noirmoutier are options for you…As regards activities, there is something for every taste: whether fishing, swimming, nautical activities or bike rides – there will be plenty to appeal to the entire family!
Discover the Vendée
Customer reviews
8.6/10
Average score out of xx customer reviews
What people thought of their stay at the Camping Village de la Guyonnière campsite
9
/10
Will
Lovely site with a great setting. Everything was clean and well organised. The bar and restaurant were excellent with friendly and helpful staff.
June 08, 2022
10
/10
Dean
Our family had a great holiday in the premium cottage
June 04, 2022
8
/10
Sarah
A lovely quiet site. We had a super break. Site was very well kept and maintained swimming pool eas quiet and plenty of sunbeds etc... loved the lazy river
June 04, 2022
9
/10
Owen
We would certainly return here. The staff are friendly (this is a genuine family owned site) and the place itself is delightful. Pool area is modern and better than most holiday parks. Perhaps it
June 03, 2022
10
/10
Dave
Fantastic time, helpfully staff, friendly atmosphere - really enjoyed our stay at the site.
October 07, 2021
9
/10
Jon
Improve bar access from poolside - too many sun beds there.
August 29, 2021
10
/10
Kevin
Wonderful place , have visited 6 times, still improving!
August 21, 2020
9
/10
Robert Armstrong
We were on Plaine 1 so a bit of a walk to all facilities but was very quiet. Everywhere very clean and tidy and the staff were very helpful. Need a special mention for Frank in security at night. So
August 20, 2020
9
/10
Tim
Excellent quality price ratio. Our wifi signal was interrupted for 3 days , but it was reported on a saturday. Recommended !
August 18, 2020
10
/10
Jennie
The only negative was the mobile home. Only one of the double doors opened. The 2nd door couldn't open as the wood holding the deck awning up was blocking it. It also was blocking the light for the
August 17, 2020
customer reviews checked by:
Practical information
Practical information
Camping Village
de la Guyonnière *****
1 La Guyonnière,
85150 Saint-Julien-des-Landes
Latitude: 46.65292
Longitude: -1.74999
Reception times
From the 17th of May to the 1rst of July : from 9 a.m. to 12.30 p.m. and from 2 p.m. to 6 p.m.

From the 2nd of July to the 29th of August : all day from 9 a.m. to 8 p.m.
From the 30th of August to the 10th of September : from 9.00 a.m. to 12.30 p.m. and from 2 p.m. to 6 p.m.
Documents to download
Plan my route